Details
We're proud to finally present the international interface of GlobalBeats FM and we're glad you found here. Of course we're still working on our english version to make you feel even more comfortable. There will be more and more exciting news and polls by and by, for instance. Besides tuning in, at the moment you're already able to read some interesting interviews with DJs who recently played on GlobalBeats FM and to join our international community by using the quick link on the right hand side. If you want to leave us a short comment please use our shoutbox or our Myspace profile. If you are interested in working together with GlobalBeats FM please click on submissions or use our forum.
Details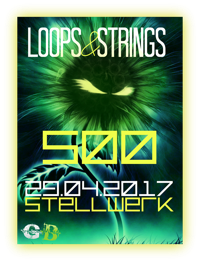 Am 4. Dezember 2004 startete eine der ältseten Shows unseres Senders. Mit großem Stolz präsentierten Resident A.M.A.N. und viele unserer GlobalBeats und Gast DJ's am 29. April im Stellwerk Duisburg live einen Meilenestein in unserer Geschichte. Loops & Strings feierte seine 500'ste Episode. Es war eine unvergessliche Nacht, in der mehr als 40 Stunden Live Sets recorded wurden.
Am 5., 12., 19. und 26. August
 präsenteieren wir euch daher jeweils
ab 16 Uhr
auf dem
Blue Channel
dieses Mega Spektakel.
 A.M.A.N. und Guido Henschel
moderieren dieses große Replay - Seid alle dabei!
Line Up:
A.M.A.N.
Andrew Fields b2b Steven Liquid
A-Tronix & Sven E
Chris Copper
Daniel Nargiso
DJ Laurin
E-L-E
Gamerino
Guantarro
Hardztyle Comander
Janekdj
Johann van Mercey
Marco van Deroga
MCO
Nick Tyrez
Refr3sh
Screaming Monkey
Semper T. aka DJ Watson
Smyn-T
SmyntShift
Sourci
Spacekid aka Uli Poeppelbaum
Steve LA
Tobaja
Sonority